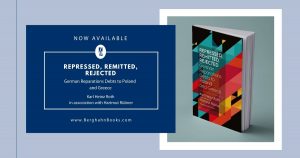 Repressed, Remitted, Rejected: German Reparations Debts to Poland and Greece
Karl Heinz Roth in association with Hartmut Rübner
Translated by Ben Lewis
442 pages, 15 tables, online appendix, bibliog.
ISBN  978-1-80073-257-5 (Published December 2021)
eISBN 978-1-80073-258-2 eBook
Description
Since unification, the Federal Republic of Germany has made vaunted efforts to make amends for the crimes of the Third Reich. Yet it remains the case that the demands for restitution by many countries that were occupied during the Second World War are unresolved, and recent demands from Greece and Poland have only reignited old debates. This book reconstructs the German occupation of Poland and Greece and gives a thorough accounting of these debates. Working from the perspective of international law, it deepens the scholarly discourse around the issue, clarifying the 'never-ending story' of German reparations policy and making a principled call for further action.
A compilation of primary sources comprising 125 annotated key texts (512 pages) on the complexity of reparations discussions covering the period between 1941 and the end of 2017 is available for free on the Berghahn Books website, doi: 10.3167/9781800732575.dd.